Cloud gaming platform
by boosteroid
top games on low-end devices|
tired of downloads? Run games in browser!
Play Now

Enjoy gaming across platforms
Even on low-end devices! PC, Mac, laptop, smartphone — GAME+ powered by Boosteroid can make it all. All you need is Internet connection.
Play
Easy start
Your games, Our hardware
No downloads
Fast game launch, no updates
* with GAME+ by Boosteroid you can run games you already own or buy games from official distributors with no need to log out
high quality
Full HD, 60 FPS
Games are launched and rendered on powerful remote servers with high-end GPUs. We secure the lowest latency, top image quality and smooth gaming experience!
AAA-gaming in browser
Play directly in browser. There's nothing to download!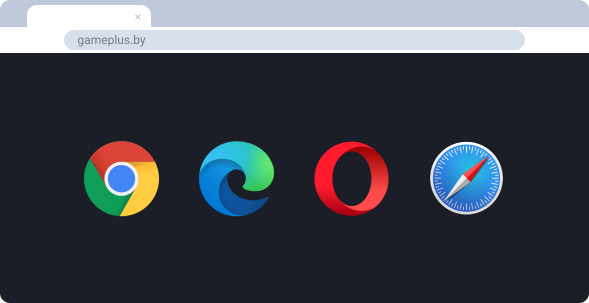 Play in browser
Subscription
GAME+ Standard
30.45
BYN / month
Try&Buy period:
1 day
To Registration
No session time limits, no queues
New games every week
game+ light
2.12
BYN / day
Try&Buy period:
1 day
To Registration
No session time limits, no queues
New games every week
Subscription cost is charged from your mobile account. Payment Terms
FAQ
How it works
What is GAME+ by Boosteroid?
GAME+ by Boosteroid - is a cloud gaming platform allowing users to run high quality and resource-intensive video games in just 2 clicks on any device. Play your favorite games with 60 FPS (Full HD 1080) on PC, laptop, tablet or even a smartphone.
How it works.
It's pretty simple. You launch your game on GAME+ powered by Boosteroid and run it using the power of our remote servers. You launch a video game on GAME+, all your inputs (commands from your keyboard, mouse or controller) are processed on our remote servers, and you receive an interactive video and audio stream back to your device so you can control the gaming process. Everything's happening instantly.
We have an efficient web-based solution that allows for running PC games directly in your browser with low latency, high image quality and smooth gameplay.
What games are available?
With a subscription for GAME+ by Boosteroid, you can launch and play any Free game available on GAME+ by Boosteroid in the cloud. If there is a Payment Required notice, it means that the game can only be launched in the cloud provided that you purchased it from an official distributor (Steam, Epic, Origin). We do not resell games.
How can I start playing?
1. First of all, you need to sign up with GAME+. In other words, you need to create a GAME+ account.
2. Check available subscription options and buy the subscription of your choice.
3. After you successfully buy the subscription, choose the game you like from the list of games available on GAME+ and press the PLAY button.
4. Sign in with your account for a specific launcher (Steam, Origin, Epic). For example, you will need an account with Steam to run games from Steam.
PLEASE NOTE that you can run both Free and Payment Required games in the cloud only if you have an active GAME+ subscription. Video games marked as Payment Required can only be launched if you have already purchased these games from a corresponding digital content distributor before launching it on GAME+ (for example, GTA5 from Steam).
How can I improve my streaming quality?
Usually a 15Mbps connection is enough to secure a 60 FPS, Full HD 1080p cloud gaming.
However, a stable connection to the Internet is very important for cloud gaming. Here is a check-list to make sure that your connection is stable.
Please use either Ethernet cable connection or 5Ghz WiFi router.
Please check that you don't have lots of open browser tabs and launched programs. It is also important NOT to have many devices connected to a single Wi-Fi spot.
If you use Ethernet, your router shouldn't be used for video streaming, video/series watching, downloads.
See all